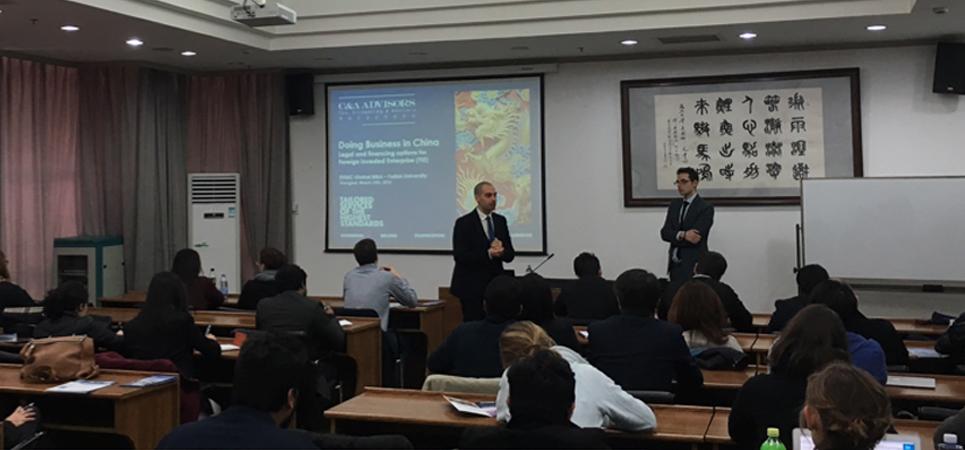 In March 2016 Orcom C&A was invited to give a presentation at Fudan University in Shanghai to their ESSEC Global MBA students. The prestigious French business school ESSEC and Fudan University, known as one of the best universities in China, are part of the Council on Business and Society. This Council brings together the leading business schools around the world to forge a unique international partnership, which makes it possible for collaborations like the ESSEC Global MBA program to operate and allows its students to experience different emerging markets.
ESSEC's Global MBA program brings together international students from all over the world (90% of the enrolled students in this program are international) to spend 12 intensive months of learning based in France and with the opportunity to experience international business practice by studying and living in up to four different countries, China among them.
Focusing on international markets, the Global MBA brings students the best academic practice to aid them in understanding the complexities of this diverse and changeable landscape, while at the same time allowing them to learn from the professionals working in the field.
On March 24th, Orcom C&A' General Manager Marco D'Amore and Manager of Foreign Investments and Corporate Affairs Eugenio Loccarini went to Fudan University to share their expertise in the Chinese Market with the students. In their presentation "Doing Business in China" they introduced the possible ways to enter the Chinese market and interacted with a very curious and attentive audience.
Orcom C&A, business advisory firm with a well-established presence in China for more than twenty years, counts on a diverse team composed of qualified experts from more than eight different nationalities. The Firm's extensive work covering diverse sectors such as Luxury & Consumer Goods, Pharmaceutical, Food and Beverage, Industrial Equipment, Automotive and Software industries, makes its experience inestimable for anyone interested in entering the Chinese market.